Is Semiconductors a Good Career Path?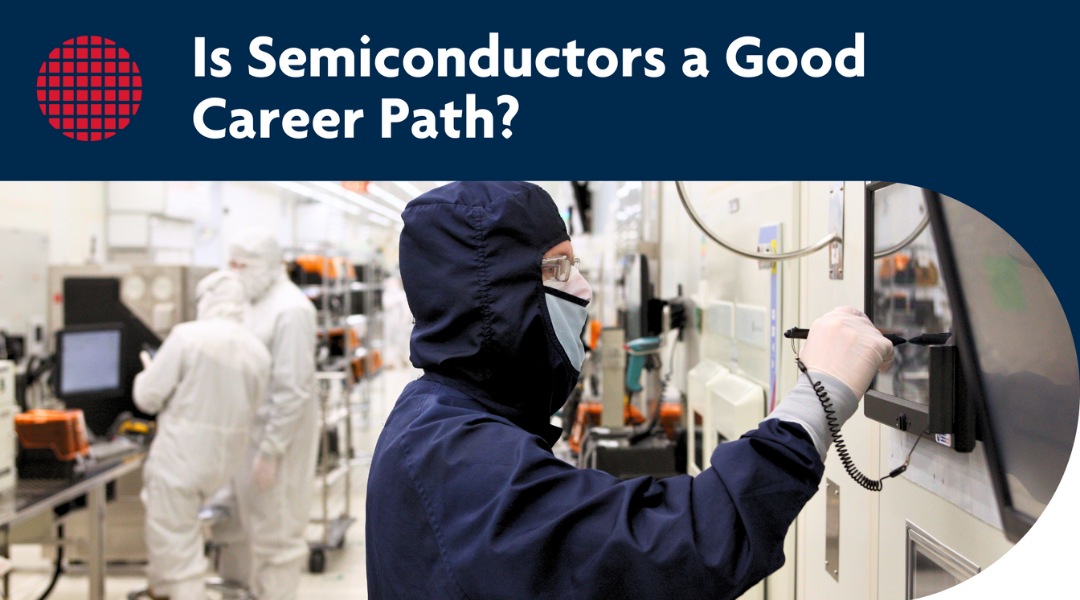 If you've checked your phone, thrown a load of laundry into your washing machine, or driven your car today, you've used a semiconductor-powered device. The semiconductor industry is rapidly growing – as technology continues to evolve, so too do semiconductors. With that industry growth comes an increase in job opportunities. The global semiconductor market is expected to become a trillion-dollar industry by 2030, and many jobs are available in semiconductors for every skill level.
This industry provides job seekers with the unique opportunity to make an impact on the products that we as consumers use every day. Semiconductor solutions power everyday life, so these jobs are crucial to the development of new, innovative technology.
Whether you're just beginning your professional career or are looking to make a career change, there's a job for you in the semiconductors industry. The benefits, career development opportunities, and variety of positions make semiconductors a good career path to explore.
What makes semiconductors a good career path?
The semiconductor industry offers rewarding careers with opportunities to continuously advance and accelerate development. And while it has a reputation for being a bit confusing and complicated, once new hires get accustomed to the unique manufacturing processes, it's a great field for growing a lasting career.
Overall, the semiconductor industry is fast-paced and constantly changing. Quality and efficiency are top concerns for semiconductor foundries as we work to improve processes and products while providing great service to our customers. It's a complex industry that offers amazing benefits and career development opportunities as well.
While opportunities differ slightly from company to company, at Polar, we're proud to offer a variety of careers in a positive work environment. We're focused on creating a culture that encourages critical thinking, community, continuous learning, and innovation, and keeps safety at the forefront of everything we do.
How many jobs are available in semiconductors?
From engineering to manufacturing to quality assurance, there are semiconductor opportunities for everyone.
These positions are hands-on and involve problem-solving and critical thinking. They're meant to be challenging but rewarding, allowing individuals to push boundaries and innovate in ways that make an actual impact.
Here are a few positions that are common semiconductor careers:
Equipment Maintenance Technician: They maintain and repair semiconductor manufacturing equipment in a cleanroom environment. They perform quality workmanship, problem-solve, and document maintenance activities.
Equipment Engineer: They monitor, sustain, and improve equipment and processes. They monitor tool performance to specify preventative maintenance and respond to out-of-control issues.
Process Support Technician: They sustain current processes to achieve greater line, parametric, and die yields. They also monitor trends to ensure compliance with necessary parameters and test wafer data.
Fab Operator: They fabricate wafers within an assigned functional area by performing production processes and inspecting wafers for quality.
Test and Development Device Engineer: They use critical thinking to provide technical and sustaining engineering support. They recommend and help implement equipment and test program modifications to improve efficiencies, integrity, and production yields.
Does one of these opportunities sound interesting to you? Check out our careers page to apply for a position at Polar today.
Semiconductor job requirements and salary
While the requirements and salaries vary from position to position, if you're interested in the best-paying jobs in semiconductors, there's a position for you with a competitive salary to match.
Most positions require an associate's degree or higher, but there are opportunities for job seekers of any educational background. Some organizations, including Polar, occasionally offer temporary internship positions around various assignments. While these positions are usually only available based on time-limited assignments, they're a great way to get hands-on experience before entering a full-time position.
Semiconductor job salaries range depending on the position and company, but the average semiconductor job pays around $83,800/year according to ZipRecruiter. Most annual salaries range from $51,500 – $110,000, so there are plenty of high-paying jobs in semiconductors.
A great thing about the industry is that a lot of learning naturally takes place on the job, making semiconductors a good career path filled with lasting, rewarding opportunities.
Building your semiconductor career
At Polar, we emphasize career development and want our employees to have the space to explore opportunities that interest them. We offer tuition reimbursement and career development planning to help employees pursue careers they're passionate about. We provide training to ensure employees get a complete understanding of internal processes and to encourage finding a position that's interesting and challenging.
In the past 5 years, Polar has supported its employees in earning a variety of degrees and certificates that have helped them advance their careers. Some of these degrees/certificates include computer technology, automation robotics, manufacturing management, engineering fundamentals, and applied science. There is no limit to growth at Polar, and as the industry continues to evolve, more positions will open up across the board.
Start your next position at Polar
This exciting field of work is only going to keep growing and progressing. If you're looking for a stimulating, challenging career at a company that's small enough for your voice to be heard but big enough to make a global impact, Polar is the place for you. Our variety of high-paying jobs in semiconductors includes great benefits, a dynamic work environment, and career development opportunities at every stage. We're also placing a heavy significance on sustainability in our eco-friendly facility.
There are so many factors that make semiconductors a good career path. We hope you apply for your next position at Polar—we can't wait to work with you!